On the road with La Guish
11 MN
On the road with La Guish
discussion with Guillaume allaire, tatooer / illustrator
As part of our Postcards collection, we invited our friend the artist La Guish to present his latest creations on his favourite themes: travel and escape.
The artist, with whom we signed our first collab a year ago, has been passionate about drawing (and surfing) since his childhood. With a background in graphic design, it's been over 5 years since he started tattooing. Whether on paper or on the skin, his broad and deceptively simple strokes illustrate his love for palm trees, California and the nostalgia of holidays.
It is said that Bretons are travellers. He is no exception to the rule, as he has travelled between the south-west, California, Paris and his native Brittany. It was on a trip from Paris to Rennes that we took the time to talk about his work, his relationship with travel and his memories. An hour on the road, spent in a snap of the fingers.
As a preamble, can you explain to us where you got the name "La Guish"?
I don't really have a concrete explanation. One of my best mates once called me that. At the time, he just called me Guish, the pronoun came later, when he said "here comes the Guish" when he introduced me. It's stuck ever since, so much so that I'm known by that name rather than by my first name.
In the end, I don't know if it's conscious or not, but basically I'm a pretty shy person. And this kind of little nickname, it creates a kind of alter ego, it helped me a lot to gain confidence and to be more easily sociable with people.
We mainly find scenes of landscapes and architecture in your different projects, where does this come from? What is your relationship with nature and travel?
When I was in art school, we were told a lot that we had to follow the trends. When I was working on finding my own style, I broke away from all that. I cut my insta, took a blank sheet of paper and thought about what I wanted to draw. At the time I was doing a lot of photography, and I thought I loved it, I loved landscapes, travelling... So why not draw landscapes after all? I started from there, I added some beach atmosphere, some California and my surf culture.
As far as my relationship with travel is concerned, I assume that there is no need to take a 15-hour plane ride to travel. In 2 hours by car, you can already change the scenery. Especially in Brittany, where I come from, we often have to get behind the wheel to drive for a few hours and come across magnificent landscapes. Through surfing too, I've done a lot of travelling. I've always seen different places. There's something about nature that makes me feel so good, I need to see it, it inspires me right away.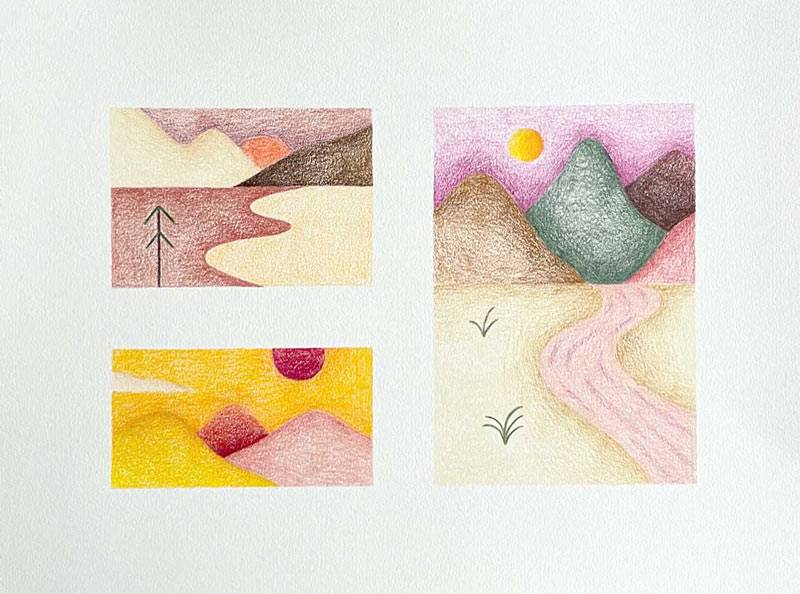 How did you come to work on paper, canvas, wall, clothing and even skin? What has been your artistic journey?
We'll go back quite a long way, because I've been drawing since I was a child. I have always been immersed in this world, with a mother and my two grandfathers who painted a lot. You can see it in my work, but originally I wanted to be an architect. One of my father's best friends was an architect, and I fantasised a bit about his way of life. But in the end I decided to go for a graphic design degree so I could really draw.
After that, I went to live in the south west of France for a year. I have another passion in life, surfing, and when I got there I thought I'd take advantage of it to work for clothing brands. It was great, but I couldn't find a job afterwards, so I went back to Rennes, where I gave up everything for almost a year. I did something completely different, notably some jobs in the restaurant business, my father worked there. We set up a pizzeria together, two years before I started tattooing.
"When I got back from Los Angeles, I put myself in my own bubble for three months to find my style and train myself."
At the time, my best mate, Alex Colson(@alex_colson), formerly Bellesetbuth, had taken up tattooing. It clicked with me because I could see that he was really blossoming in it and that he was only drawing. He had me test it on him several times. When I saw that it healed well, it confirmed that I could use this medium. The real revelation came in 2017, when I went with him and the whole team of the ink factory (@lencrerie) for a trip to Los Angeles. When I got back, I spent three months in my own bubble to find my style and train myself. I activated my network in Rennes and that's how it happened, a little bit at a time. From 2018 onwards my agenda started to fill up, I joined the team of l'encrerie and I've been tattooing a lot of people ever since.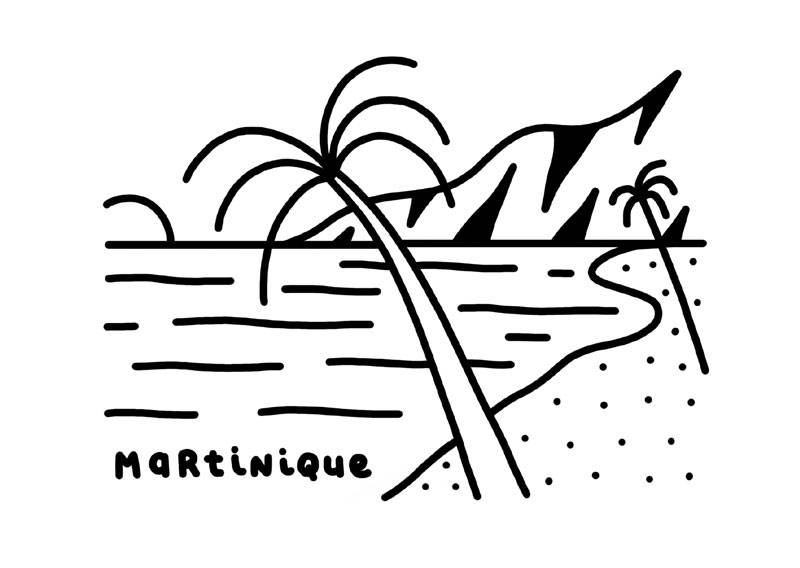 You have a very recognisable graphic style, which combines simplicity, broad strokes and black monochromes. Where does this come from?
I've always liked styles that are a bit "ignorant", with few graphic lines, more black lines, not too many gradients or "disturbing" elements around the drawing. I wanted something simple. The question I asked myself was how to transcribe an image I see in a minimum of lines. I even drew with my left hand to break up my line and give it a very loose feel. As time went by, I continued to evolve. I always stayed with what I was doing, landscapes and everything that could evoke memories and holidays, but it became smoother. It's probably my repressed architect side, added to my training as a graphic designer, but I always try to make things as straight as possible, to structure things.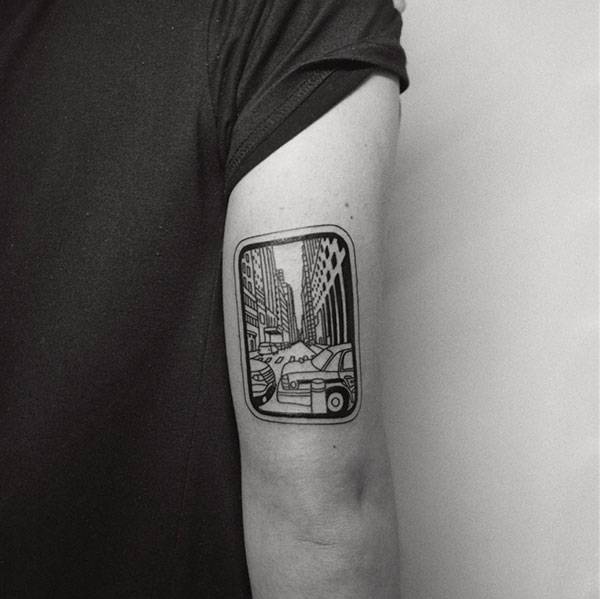 Whether it's for tattoos or anything else, I start with photos for personal projects. Basically, people send me a bunch of photos of holiday memories or whatever, and then I choose the one that inspires me the most in terms of composition. I take the broad outlines of the volumes and then I make my mishmash. In Paris, I've had a lot of people who had family in Brittany or on the coast and who sent me photos from there to have them tattooed. A bit like a souvenir of their origins, or at least of places where they have ties.
For the rest, it comes mainly from my imagination. Sometimes I look at a landscape and I compose from that, I add or remove elements from the decor.
Can you name any artists and/or art projects that have potentially influenced your work?
I'm a bit of a child... I don't really have any inspiration, in the sense that I don't want to restrict myself. There are lots of tattoo artists or illustrators whose work I really like, but I'm not really going to use them as inspiration. In fact, I hate seeing stuff that's already been done before. Most of my inspiration comes from photography accounts on instagram. There's Jake Inez (@jakeinez) for example, a photographer from LA who does a lot of landscape, and another instagram account that features many Nature Filmed photographers (@naturefilmed).They are mainly American landscapes. I must admit that I am a big fan of American and Canadian landscapes. The vast expanses speak to me.
Apart from that, when I was in Biarritz, I met a lot of people who inspired me, not so much in their graphic style as in their way of working. Supakitch for example, with whom you have already worked. He started out as a graffiti artist, then a tattoo artist, and now he makes a living from his art, and it's true that he's a bit of an ideal for me.
What can you tell us about the account "@la_gouashe" that you opened in 2022?
I'm starting to develop colour quite a lot, it's interesting, it allows me to evolve. I've been a tattoo artist for five years and I often draw the same things. Even if I evolve in my line and in the black, it remains limited. I wanted to try other things, to come back to paint and pencil, a bit like when I was a student and I used to work with many mediums. @la_gouashe finally allows me a bit more freedom, I post a lot of different stuff, like a portfolio.
"When I was in Biarritz, I met a lot of people who inspired me, not so much in the graphic style as in the way of working.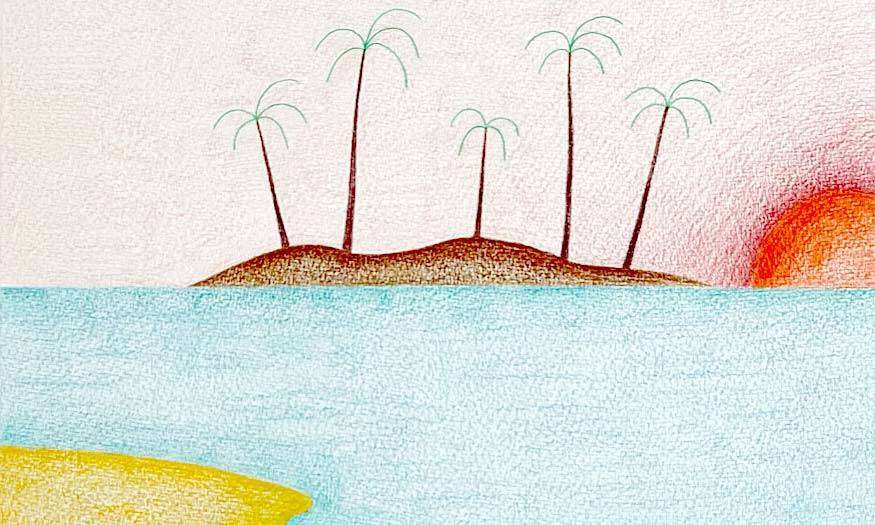 The theme of the current collection is "Postcards", what does that mean to you?
That's clearly a theme for me! (laughs) I really like the relationship we used to have, which is a bit lost today, with postcards. It's a bit like a catalogue of places you've travelled to, or where your friends have been. At home, my parents loved to hang up the cards we received in a corner or make a frame out of them. It's a micro-format that makes you travel immediately. There is the image, always a little kitsch, of the most typical places of the place where you are, it puts you directly in the mood, in one or two shots. And this material side, it's palpable, you turn it over, there's the sender's handwriting. It creates a strong link between the person who sends and the person who receives, it's not just a text message with a classic typeface that everyone has. In the end, that's what it is, it really evokes the bond between people.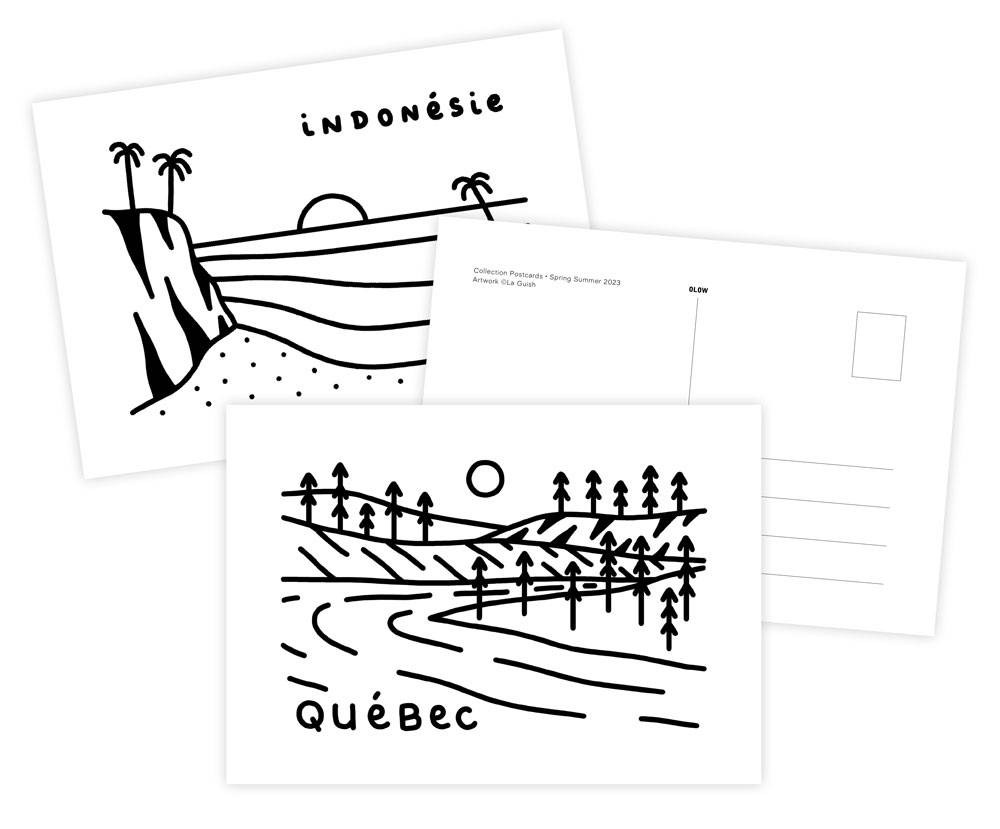 You lived a lot in the south west, then in Rennes, and finally in Paris, can you tell us more about your "transits", what made you move around so much? Was there a city that was particularly interesting in your artistic development?
My travels have often been due to work, especially to Paris. I am a pure Breton, I love my region, I am even very chauvinistic about it. Between us, we have the best region in the world, let's stop pretending it's not the case! And while I had always told myself that I would never go to the capital, I went there, for the tattoo. It was easier to work there, and in the end, it's a good thing I did, because it gave me a reputation and a clientele that I would never have had otherwise. Then I went back to Rennes because I was fed up. My wife and I recently returned to Paris, but more for personal reasons, to come back to Rennes. In the long term, we would like to go to Quebec. It's a project I had before the covid, but which we put aside because of the pandemic.
In the end, we are more in search of well-being, of a place where we feel good, where we are fulfilled in our work and in our personal lives. That's my philosophy of life. As I said, I'm a guy who loves nature, I need it. In Rennes, I walk for 2 minutes and I'm in a park with my dogs. In Paris, it takes 20 minutes to be dragged to a park that is 20m2.
For the city, there would be Biarritz. There are the waves and the city, it's a good place to live. Otherwise it's really San Diego in California, it's one of the cities I've loved the most on earth. I could live there I think, it remains to be seen under what circumstances. I can't wait to go back. We'll take the little one there when she's a year or two. Maybe that's why I love Biarritz in the end, it's close but it reminds me of that lifestyle.
"We are more in search of well-being, of a place where we feel good, where we are fulfilled in our work and in our personal life. This is my philosophy of life."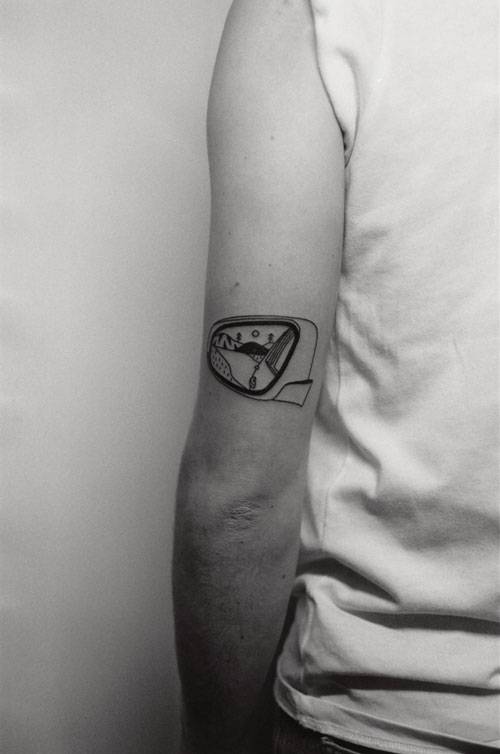 If we want to get a tattoo from you or buy a print from you, where do we find you?
I have a Big Cartel, but I only update it when I have new stuff. I'm very happy to do an exhibition, I prefer this way of working. The works are there, and if people want to buy them, I can give them to them personally. In the near future I would like to have a real website, where you can also order prints. At the moment, the best way to order is to contact me directly by e-mail.
As far as tattooing is concerned, my friend Alex opened his salon 2 years ago in Rennes, Carbonne 14 (@carbone.quatorze)I'm a resident there. Otherwise I do guest work all over the place.
Is there a tattoo memory that has particularly marked you?
I like to draw animals sometimes, it's out of the architecture and landscapes. And a project that marked me, that I was proud to do, was a first tattoo. There was a guy who came with no tattoo, I did both his arms, one with marine animals, the other with land animals. It's crazy to think that there's someone on earth who has between 40 and 45 tattoos of me on him. I'm really proud of that. So on a general memory, it would be the first tattoos actually. There's something quite gratifying about that, being the person you can go through the process of getting a tattoo with.
What are your future projects?
Already, having my first child will take me a long time, it's more than imminent, it will be great. I've been wanting to do an exhibition for a long time. Tattooing takes up a lot of my time, both in managing emails and drawings, which leaves me little time to create. I've been waiting for this time off with our daughter, to cut out tattooing for this period of time and focus on painting and pencils again.
In the long term, and given that we are moving back to Rennes and that I have less and less desire to go to Paris, I really want to develop an income and an activity in painting and coloured pencil illustration.
"I really want to develop an income and a business in painting and coloured pencil illustration. "
At the same time, I've had the opportunity to do two frescoes in private homes, and it's something I'd like to push a bit. Seeing Madi's work, who does a lot of it, really made me want to go into that too. I also have a project which has nothing to do with that and which is not really for the moment, it would be to set up a pizzeria.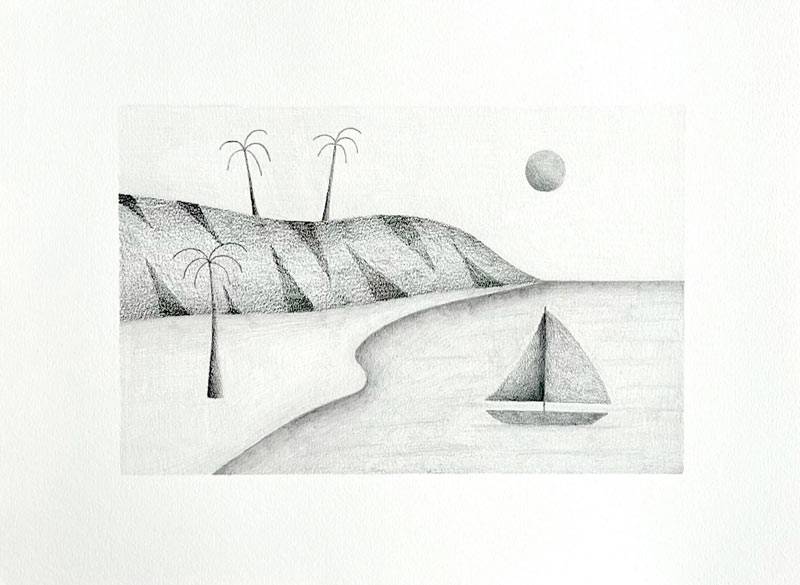 Often music is a central element in the inspiration and creativity of some artists. What music do you play when you work?
Basically, I listen to a lot of rap and RnB, both French and American. It's kind of my daily listening base, even if I really listen to everything. I like to put this on when I'm working. But when I need to be calm and concentrate, I listen more to jazz or more soothing stuff. At the moment, there's an artist I love to listen to, it's Hiroshi Yoshimura. His album Green really puts me in a bubble.
"Postcards" an exhibition by La Guish
As part of our Postcards collection, we invited our friend the artist La Guish to present his latest creations on his favourite themes: travel and escape. On the programme, personalised postcards, drawn by the artist live, and an OLOW postal service
For more information, click on the banner above