We care about environmental issues as well as the wellbeing of the people we work with.
01
European manufacturing
All the factories we work with are located a few steps from the ocean, in a green and rural setting, where our on-site partners ensure the wellbeing of their employees. Over time, we have forged real relationships with them, and some of our manufacturers have become true friends, with whom we've shared great times to the sound of the accordion, watching their children grow.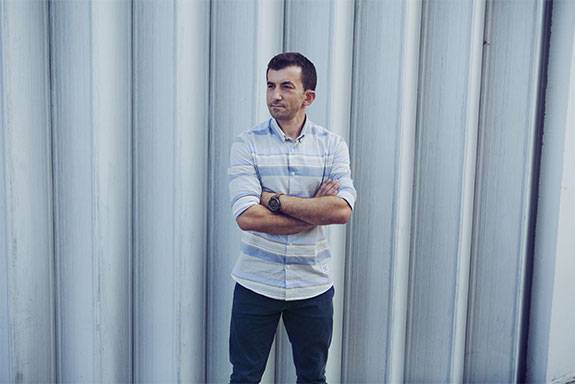 The factory that produces our t-shirts and sweatshirts was established in 1987 in the Braga region of northern Portugal. Taken over in 2009 by the family's two eldest sons, the business, which was sinking, now hires 35 employees (most of them paid more than the minimum wage) and has only one ambition: to convey the family know-how acquired thanks to a perfect transmission of textile knowledge. In recent years, they have chosen to be more eco-friendly by inputting new production measures, such as solar panels that now supply the factory with energy. Born in Quimper and having lived much of their childhood in France, Miguel and Marco embody this closeness and this deep friendship with our adopted land. Now in their forties, the two brothers, fans of surfing and motorcycles, have become invaluable advisers and our most loyal friends with whom we share many barbecues and evening drinks. All in French!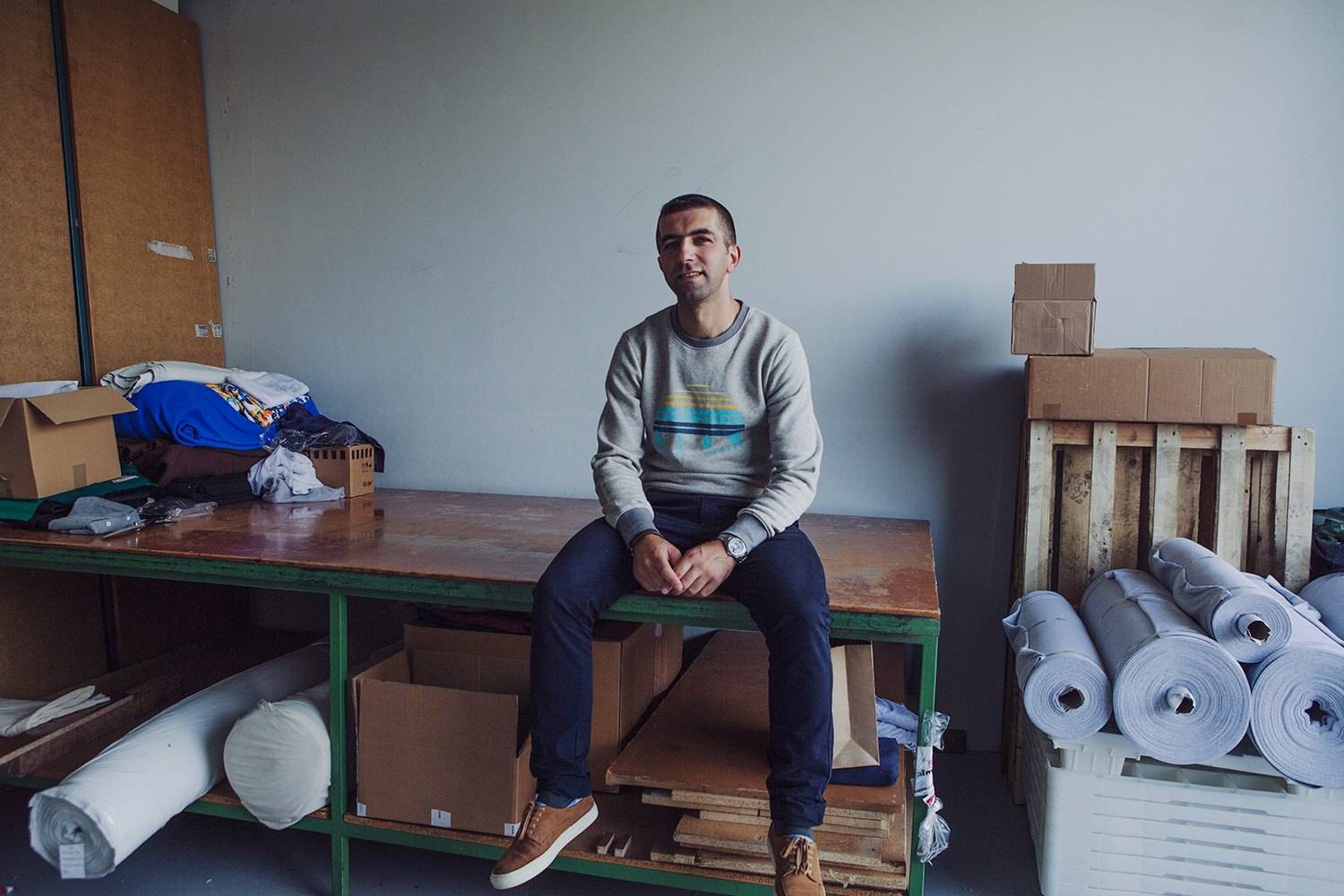 Making coats is a tricky job. For each collection, we want to offer high quality coats at an affordable price. Following an in-depth conversation with Eugenia, a highly skilled professional recommended to us by the factory, we put together a detailed product sheet to ensure the exact tracking of each part. The confidence we have in her and her teams is matched only by our commitment and genuine friendship. The expertise and efficiency of the workers she has collaborated with for more than 30 years allow us to create high-end and affordable clothing with complete peace of mind.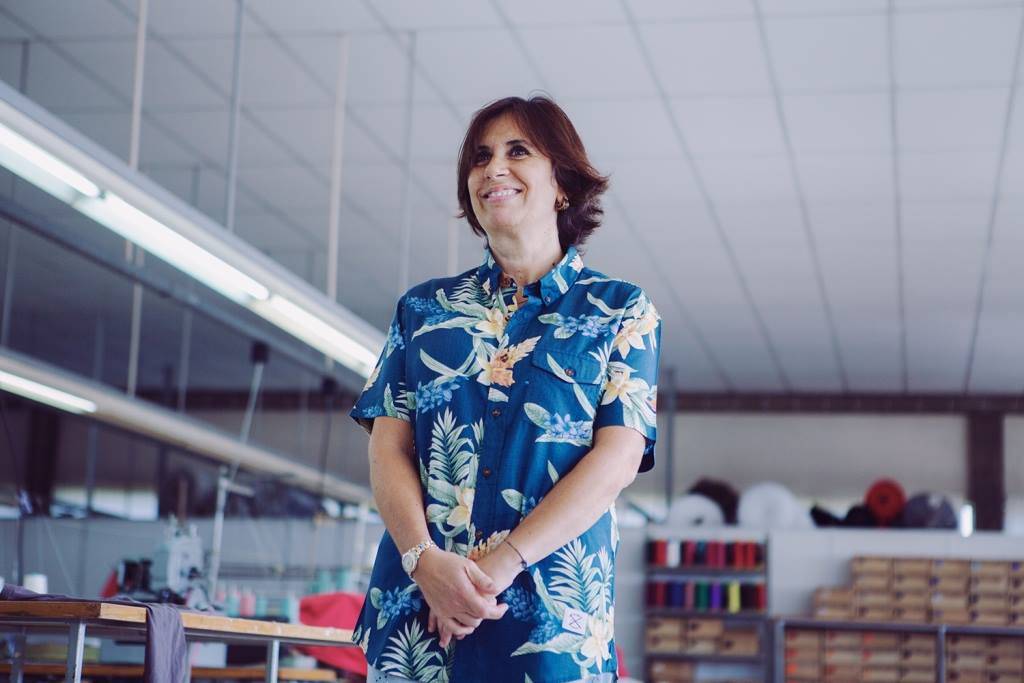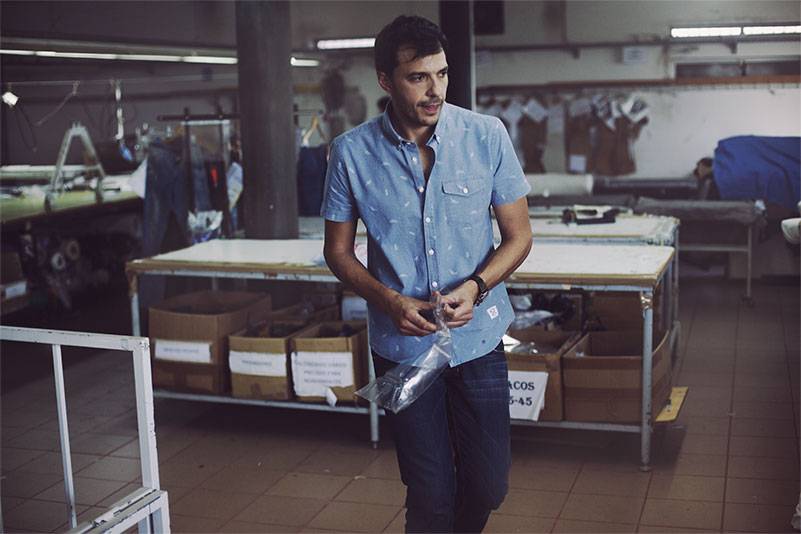 Vitor is the manager of the factory which makes the jackets, trousers and shorts. His garden is a field of colourful, inspiring and delicious fruit trees. In this part of Portugal, everyone seems to know each other. Each restaurant outing is an opportunity to meet up and talk about the good weather, holidays and life. This is a true love story, a family endeavour bequeathed four years ago by Adélio to his two sons, Vitor and his brother, who have become our friends over the years. The family business now favours environmental measures with the installation of solar panels and pays particular attention to the working conditions of its employees.
Heading the family-run factory of 27 employees dedicated to the production of our knitwear, Pedro works with his wife in the workshops. He is also a close friend of brothers Miguel and Marco. In these small Portuguese villages, friendships last and stories are shared. Located near a eucalyptus forest, Pedro's factory borders a river where he regularly goes paddleboarding with Miguel and Marco. As pure as the wool used to make the knitwear, the water from the river is also used as drinking water by some of the locals.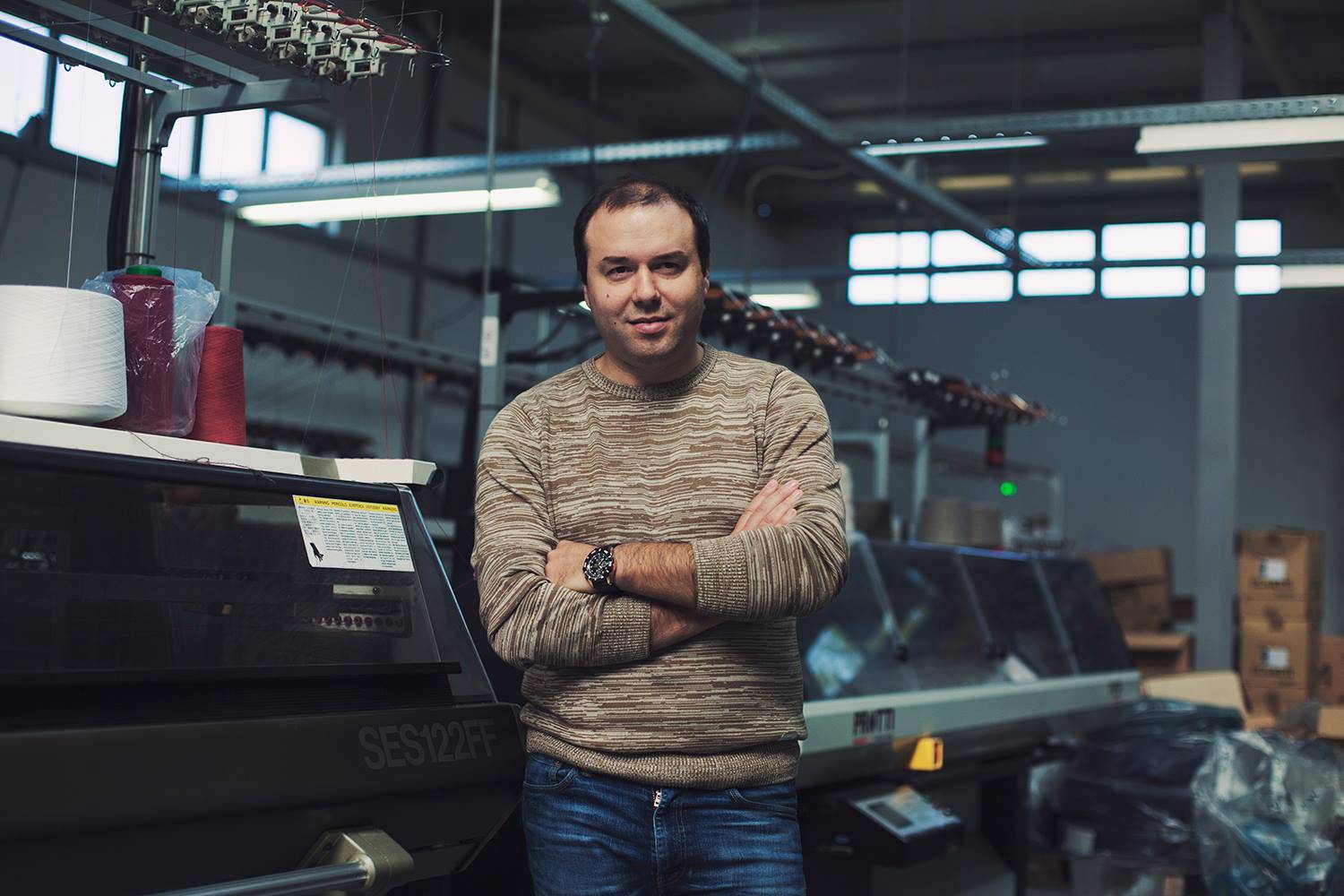 Located 30 kilometres from Porto, the business which makes our shirts is the largest of the factories with which we collaborate, and is very well known for its professionalism. Created 27 years ago with just a handful of employees, it now boasts a hundred or so. Divided into four departments, the factory includes a space dedicated to cutting fabrics, a preparation space for collars, cuffs and pockets, a product closure section as well as a final section dealing with the placement of buttons, measurement control, the ironing and the packaging.
We're well aware of the textile industry's terrible footprint on the planet, thanks in large part to the behemoths of fast-fashion. So we endeavour to offer more sustainable products, using materials sourced in Europe, and production methods that are both environmentally and socially friendly.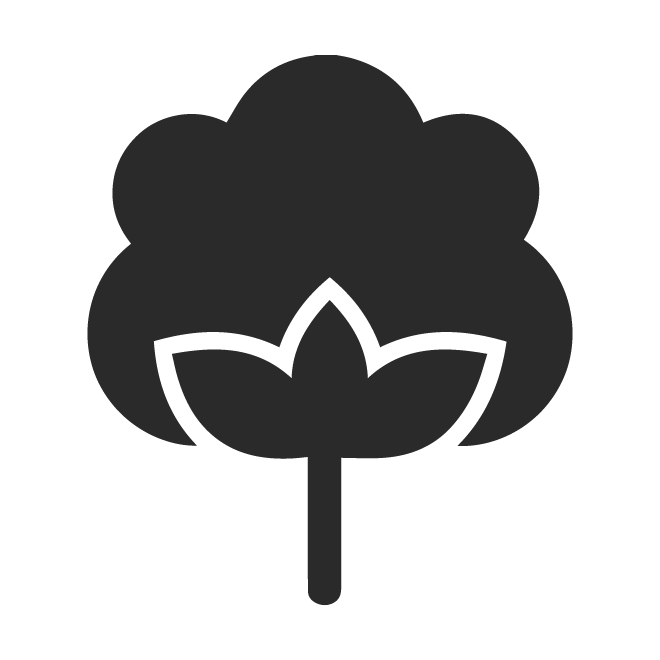 GOTS-certified organic cotton
Most of our products are made from GOTS-certified organic cotton. This label guarantees the organic nature of textiles, from the harvesting of raw materials and the manufacturing process, through to the packaging, labelling, sales and distribution. On a social and ethical level, good working conditions and decent wages as well as a ban on child labour are also required by the label.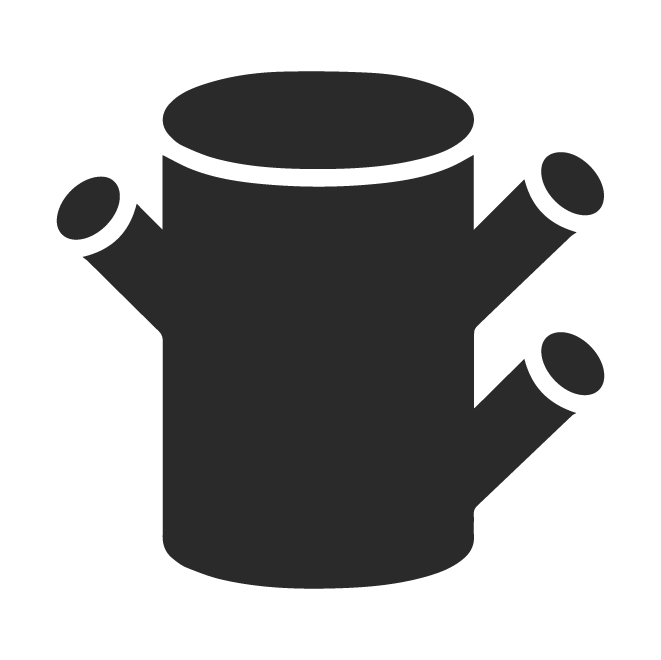 Tencel
Tencel is a fibre produced from wood cellulose. Taken from the bark of deciduous trees, its manufacturing requires very little water. Often used as an alternative to silk for its soft feel and elasticity, it's a durable material that absorbs a lot of water. Our products made from tencel therefore dry quickly and help regulate perspiration, perfect for articles of clothing that sit close to the skin, like our shirts.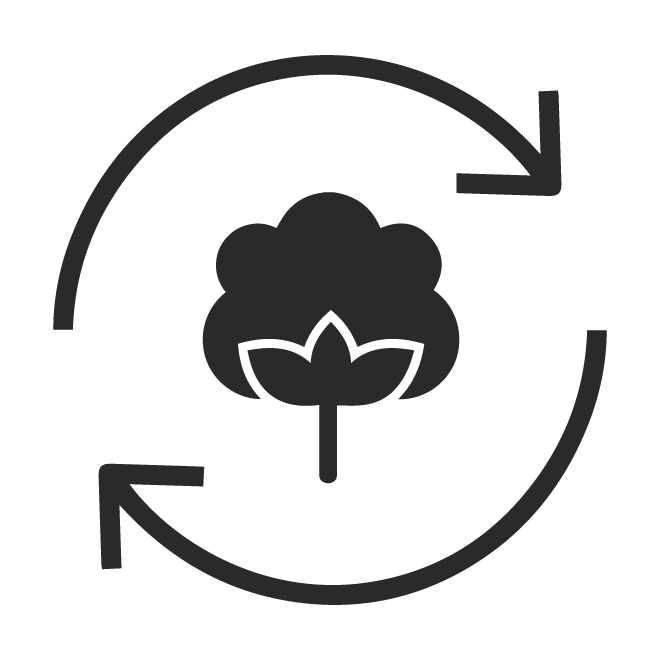 Recycled cotton
Cotton is one of the most widely used materials in the world, and therefore one of the most polluting. By using recycled cotton, we avoid wasting natural resources while significantly reducing our ecological footprint.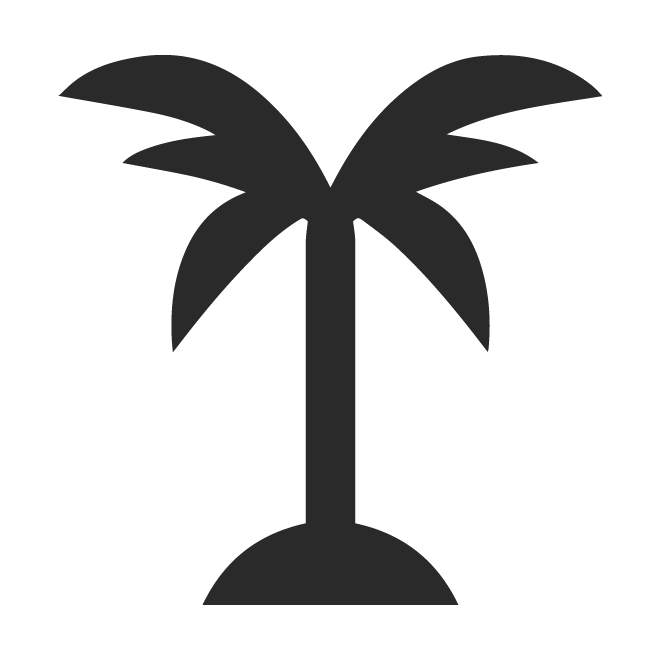 Corozo
A Spanish term for vegetable ivory, corozo, or tagua, is the flesh of the fruit of the ivory-nut palm (called albumen) native to the Amazon rainforest. It can be carved, turned and polished as easily as ivory. All of our buttons are made out of corozo.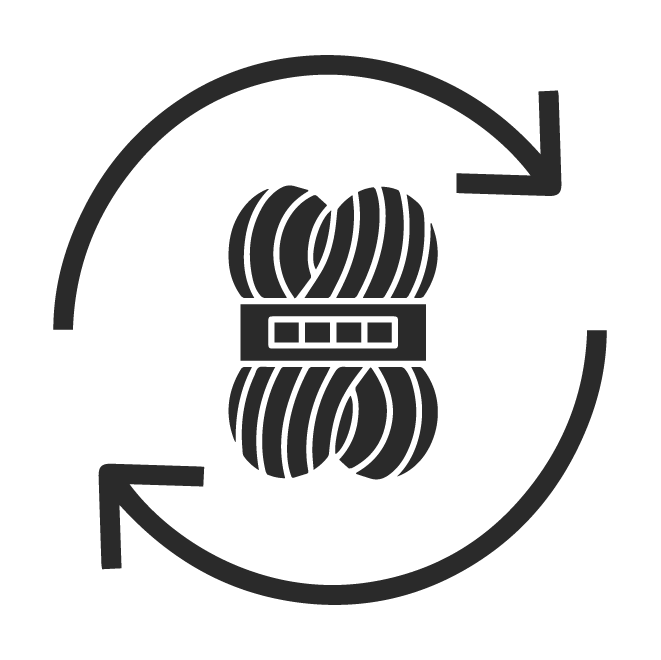 Recycled wool
Like other recycled materials, the wool recycling process involves reusing existing clothing, thereby saving resources while avoiding waste. This is particularly interesting in the case of materials of animal origin, limiting the subsequent CO2 emissions from farms.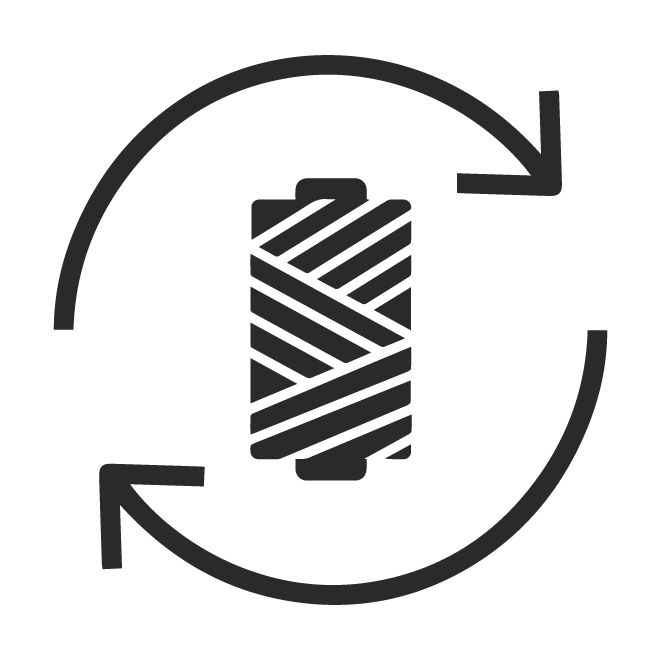 Recycled polyester
Polyester is a chemical synthetic fibre derived from petroleum. It's a very polluting material which is very difficult to degrade and depletes natural resources. By recycling polyester products, we avoid pollution linked to its manufacturing and limit the waste it generates. We use it mainly for some of our collars and the lining of some of our jacket sleeves.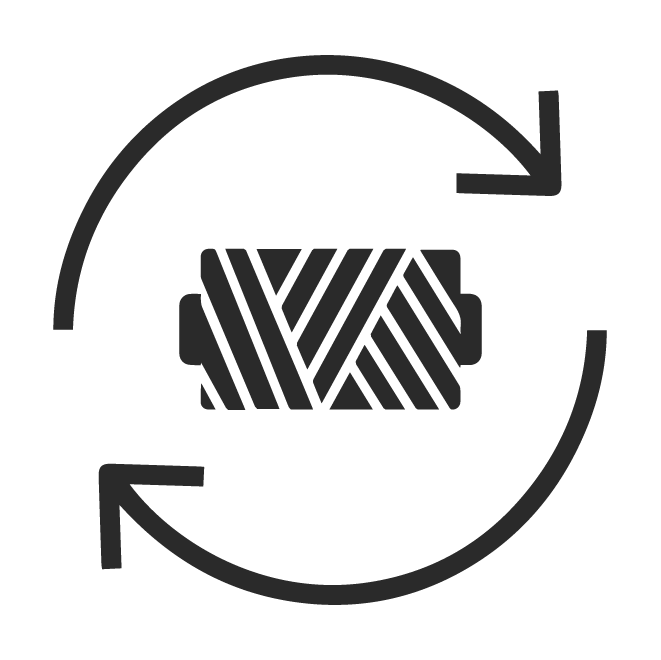 Recycled polyamide
Like polyester, polyamide stems from the petrochemical industry. Its production requires a lot of water, generates CO2 emissions and is responsible for the diffusion of plastic microparticles in our oceans. Recycling this material therefore helps to lessen its ecological footprint.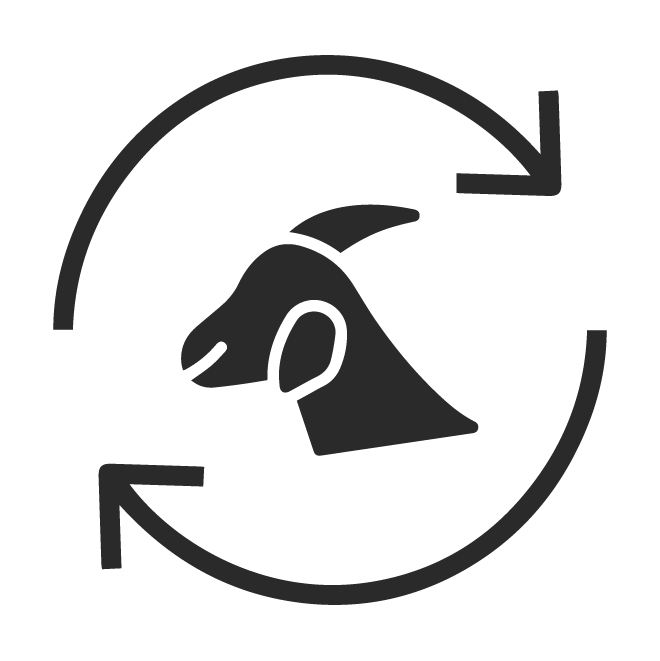 Recycled cashmere
The down of Cashmere goats is one of the warmest in existence. Retaining the qualities of cashmere, the recycled version mostly comes from old cashmere clothing, transformed into fabric to produce new garments.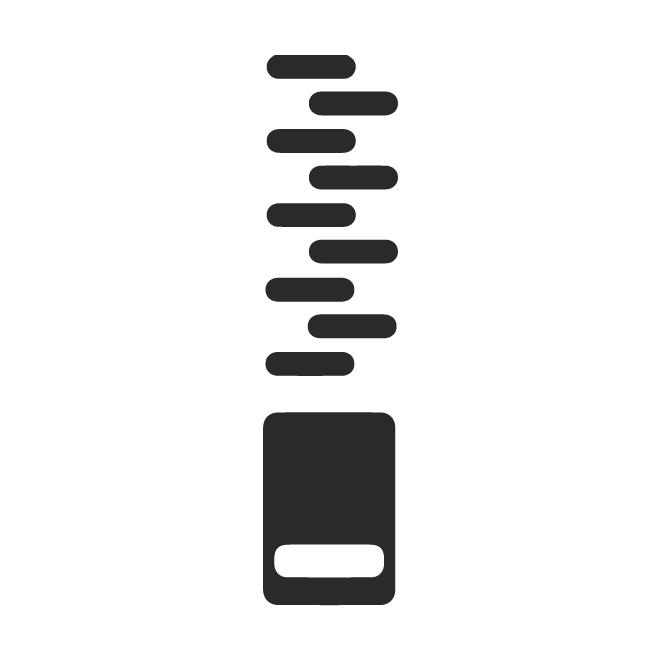 YKK zippers
YKK, short for Yoshida Kogyo Kabushiki gaisha, is a Japanese company founded by Tadao Yoshida in Nihonbashi on January 1, 1934. The wear-resistant zippers are considered to be the best in the world, which is why we only use these ones on our garments.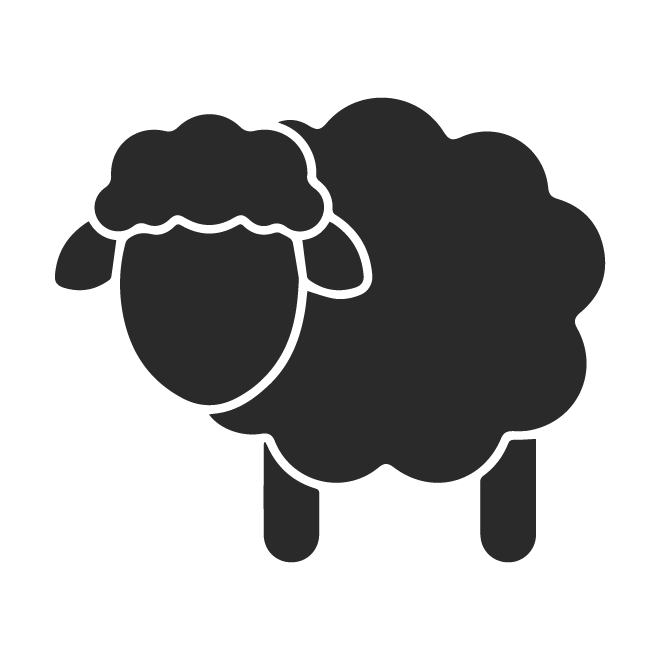 RWS wool
The Responsible Wool Standard truly guarantees animal welfare and protects the land they graze upon. It also guarantees ecological and social requirements.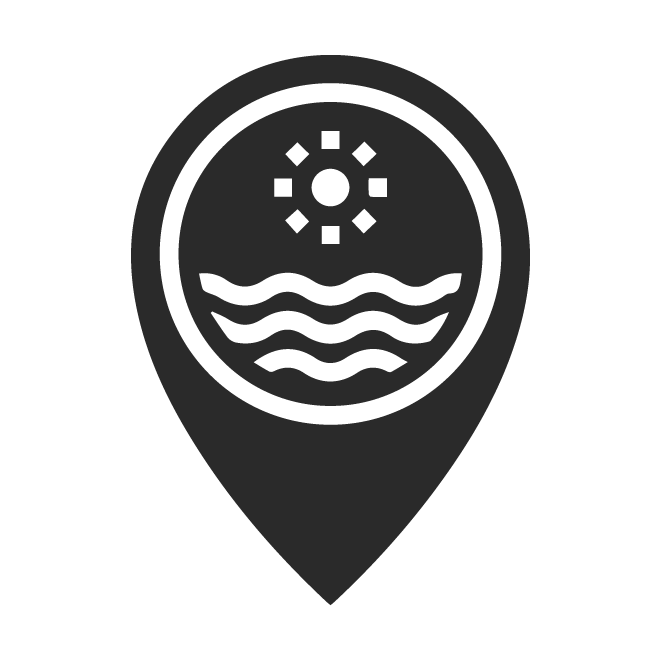 Seaqual
Many of our garments are proudly manufactured using an ecological fibre created by SEAQUAL INITIATIVE. SEAQUAL INITIATIVE is a unique collaborative community that works with ocean clean-up programs around the world to transform the marine litter they recover into SEAQUAL® MARINE PLASTIC; a new, fully traceable raw material with the power to raise awareness of the issue of marine pollution and highlight those helping to fight it.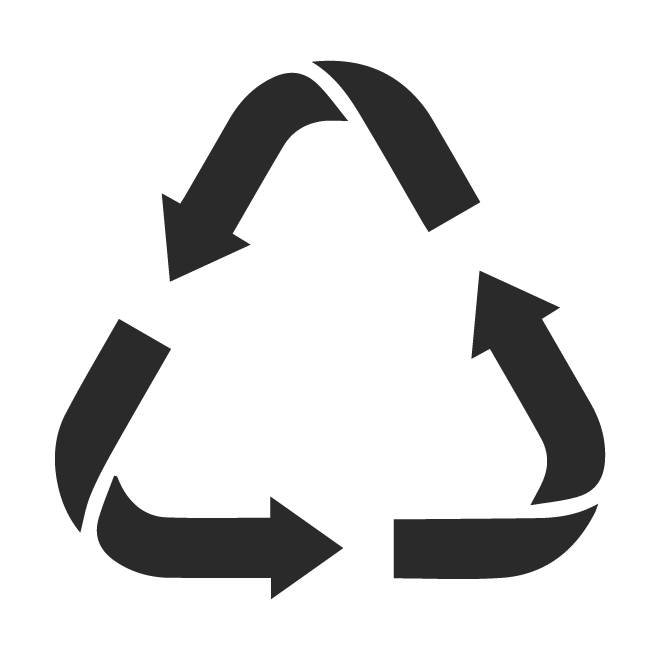 Upcycling
Upcycling consists in reusing fabric to make new clothes. This process helps prevent textile waste, while saving the energy needed to produce new garments.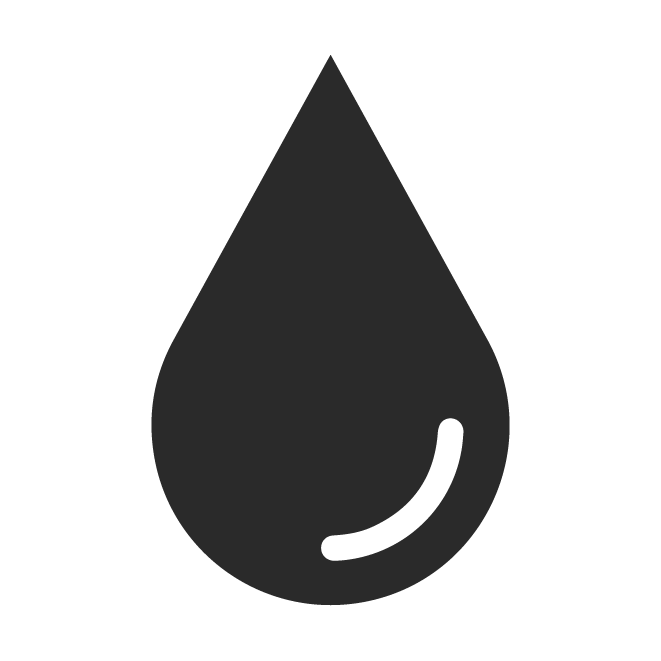 Water-based screen printing
The water-based inks we use don't contain harmful solvents and help reduce environmental pollution generated by the release of volatile organic compounds.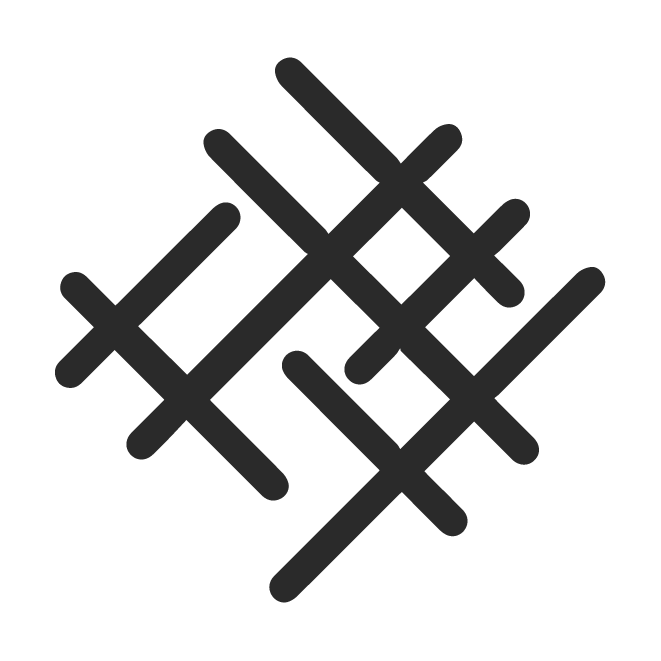 Linen
Linen is historically the oldest fibre in the world; flax fibres were indeed found in the Dzudzuana cave in Georgia, a 36 000 years old rock shelter. Flax only grows in temperate zones close to the sea (such as in Flanders or even in northern France). The plant doesn't require a lot of water and its manufacturing consumes very little energy.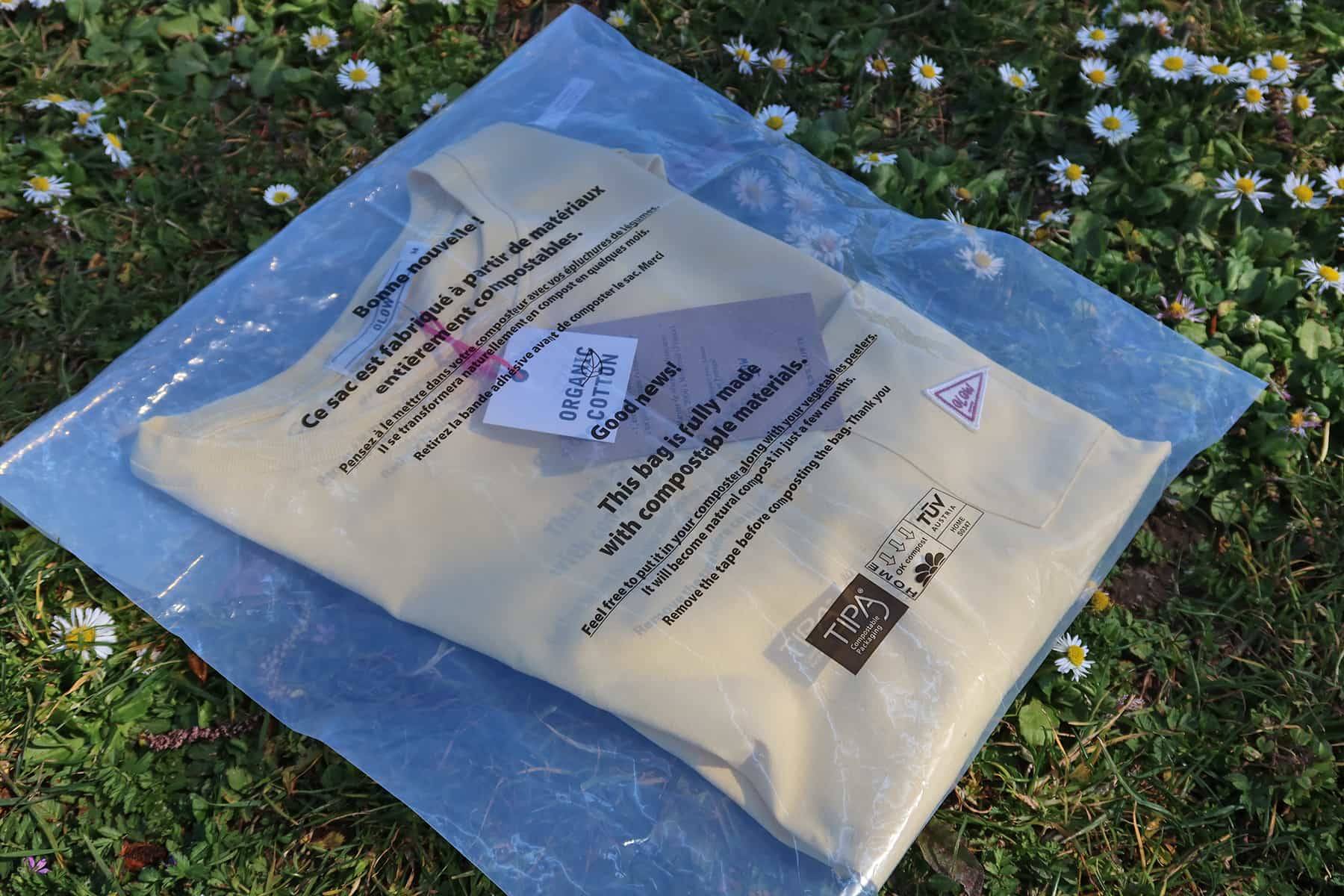 TIPA
We're very proud to be collaborating with TIPA, a company which offers compostable packaging. Used to package our products, it can then be used at home to throw away food and other organic waste in, placed in a home compost and thus enrich the soil.
RECYCLED KRAFT
We now use recycled Kraft cardboard boxes, made in Europe, to ship our e-shop orders. The ink used on them is vegetable-based and the production of the boxes meets European Union labor law standards. Completely biodegradable, it's created to break down into natural elements.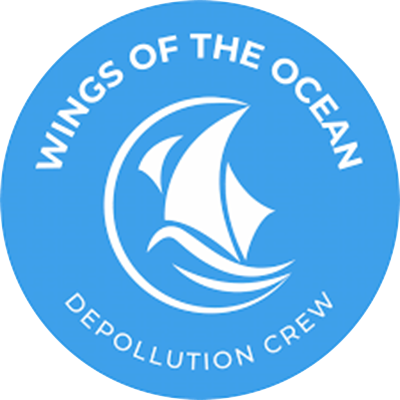 Wings of the Ocean
We're proud supporters of Wings of the Ocean, an organisation known for its ocean clean-up initiatives and their efforts to raise awareness of the consequences of plastic waste in our seas. As part of this collaboration, OLOW has produced a range of clothing items, of which all profits are donated to the NGO.

Surfrider Foundation
The SURFRIDER Foundation is an NGO recognised internationally for its actions protecting our coasts and oceans. We decided to champion their work by producing an eco-friendly item of clothing and donating all of the profit generated by its sales to the organisation. We believe this action grew their following amongst our clients and led to an increase in their awareness-raising initiatives.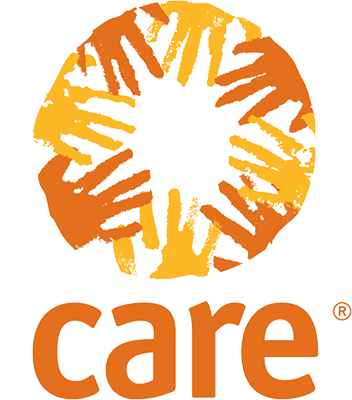 Care
Between 2013 and 2015, OLOW criss-crossed around France and Europe with its "Planchettes" exhibition showcasing the work of 29 emerging artists, many who donated their work to us once it was over. Instead of keeping their creations to ourselves, we decided to sell them and donated all proceeds to the humanitarian organisation CARE.
Offering products that are both high quality and "responsible" at the same time, all at a fair price, has always been one of our priorities. On the one hand, this allows our factories to stay in business and develop, while maintaining responsible methods of production and a good quality of life. On the other, it allows the brand to live and see a brighter future. Ultimately, it allows a wide audience to treat themselves without emptying their bank accounts! We made all this possible when we decided to place the brand in a wider and global societal context, by having reasonable margins and without seeking limitless profit at the expense of everything else.