Postcard operation by Hélène Batiot
4 MN
DISCUSSION WITH HÉLÈNE BATIOT, BIOGRAPHER AND FOUNDER OF ABC LIVRE
Hélène Batiot is passionate about words, books and writing, and shares with us her love of postcards. It's a habit she's had with her grandparents since childhood, but also during her first solo trips. It was during one of her long journeys that she decided to share her adventures with her community, the regulars at her writing workshops, by sending them postcards at each stage of her journey. More recently, she launched l'Abécédaire des Grands-parents, a guide to making the art of life storytelling accessible to everyone, and leaving a legacy of memories.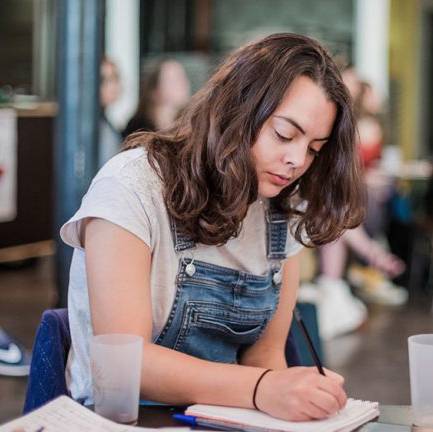 Can you introduce yourself in a few words ? Tell us about your business ?
My name is Hélène and I created ABClivre in 2017. I'm passionate about words, books and writing. In fact, I've come up with 3 activities to make them more accessible, for anyone who wants them: Writing Workshops, Biographies and Literary Advice.
Where did this desire to make writing accessible to everyone come from ?
For as long as I can remember, books have offered me travel, learning, pleasure and discovery. It's always seemed too stupid to me that some people should miss out on these treasures! I'm also convinced that everyone has stories that can interest and help others, so we might as well share them.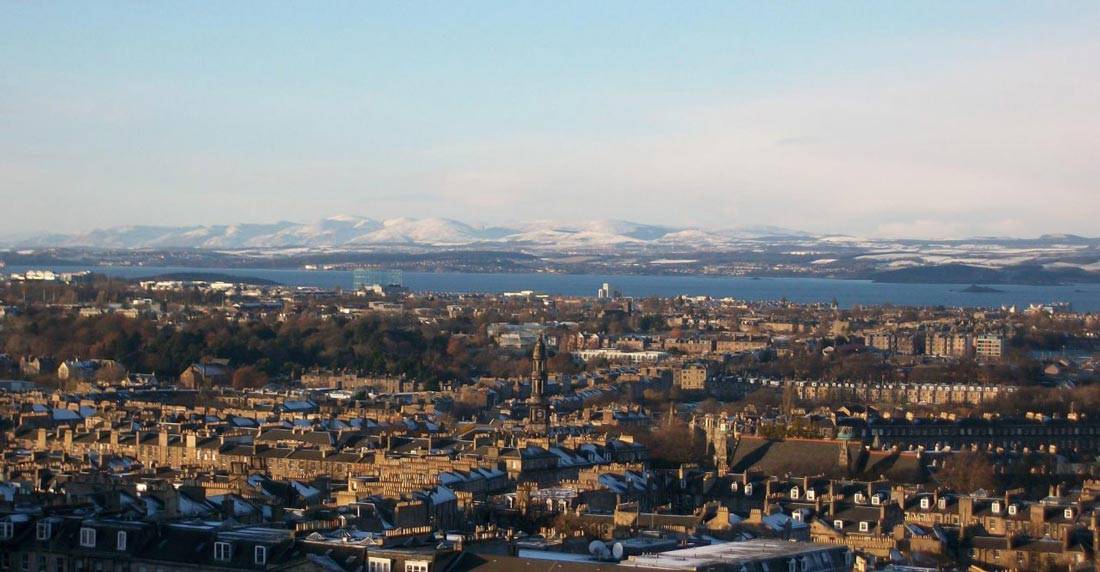 What does it mean to you today to be independent ?
It means a lot of responsibility, but also a lot of freedom. It's also a chance to work at my own pace and make my own decisions. It also means that I get to see projects through from start to finish, from creation to publication. I can afford to tailor my work directly to the people who contact me.
What is your connection with travelling ?
I've always admired people who speak several languages, so during my studies I wanted to do my work placement abroad to improve my language skills. After my placement, I went on to do an ERASMUS in Scotland, and when I got back I continued to travel. I loved discovering new words, other cultures, other landscapes and other stories. I met the D. of ABClivre at a travellers' association, so we quickly talked about going away together.
Tell us about your journey, what did it bring you ?
Initially, we wanted to go to New Zealand for 3 months. Unfortunately his employer refused our request for unpaid leave. He finally decided to resign, which meant we could go away for longer. Then the project had to be postponed because of Covid, so we took the time to add a few stages and wishes to our list.
We wanted to go as far as possible, but without getting on a plane. We started by travelling around Europe by train and van. Then we wanted to do the first part of our trip in Europe by train and van. Then we wanted to take the ferry to Canada, but that didn't work out. Then from Montreal to Vancouver we were able to take the train. We made a stopover in Polynesia and we were able to reach our initial goal: New Zealand. I came back with 50,000 ideas to develop over the next few years.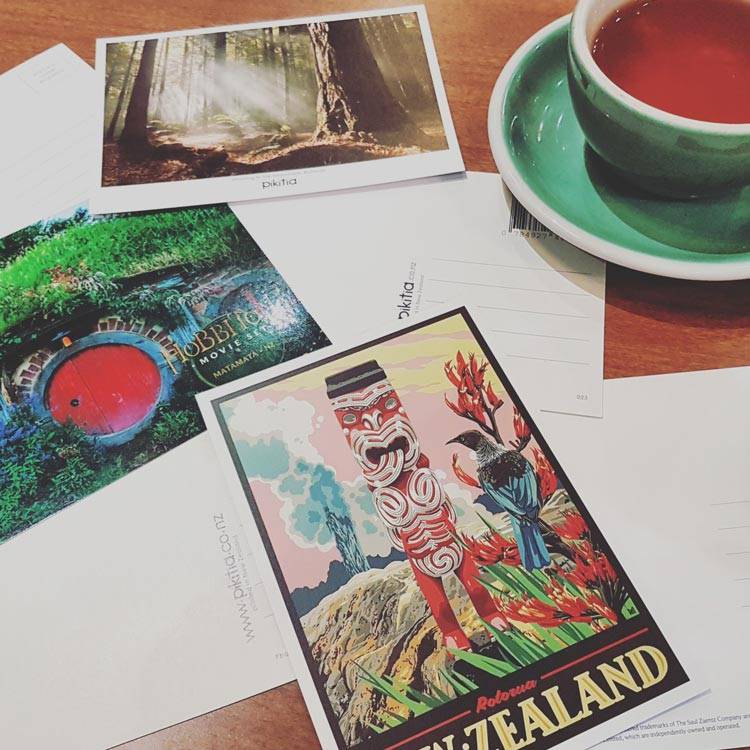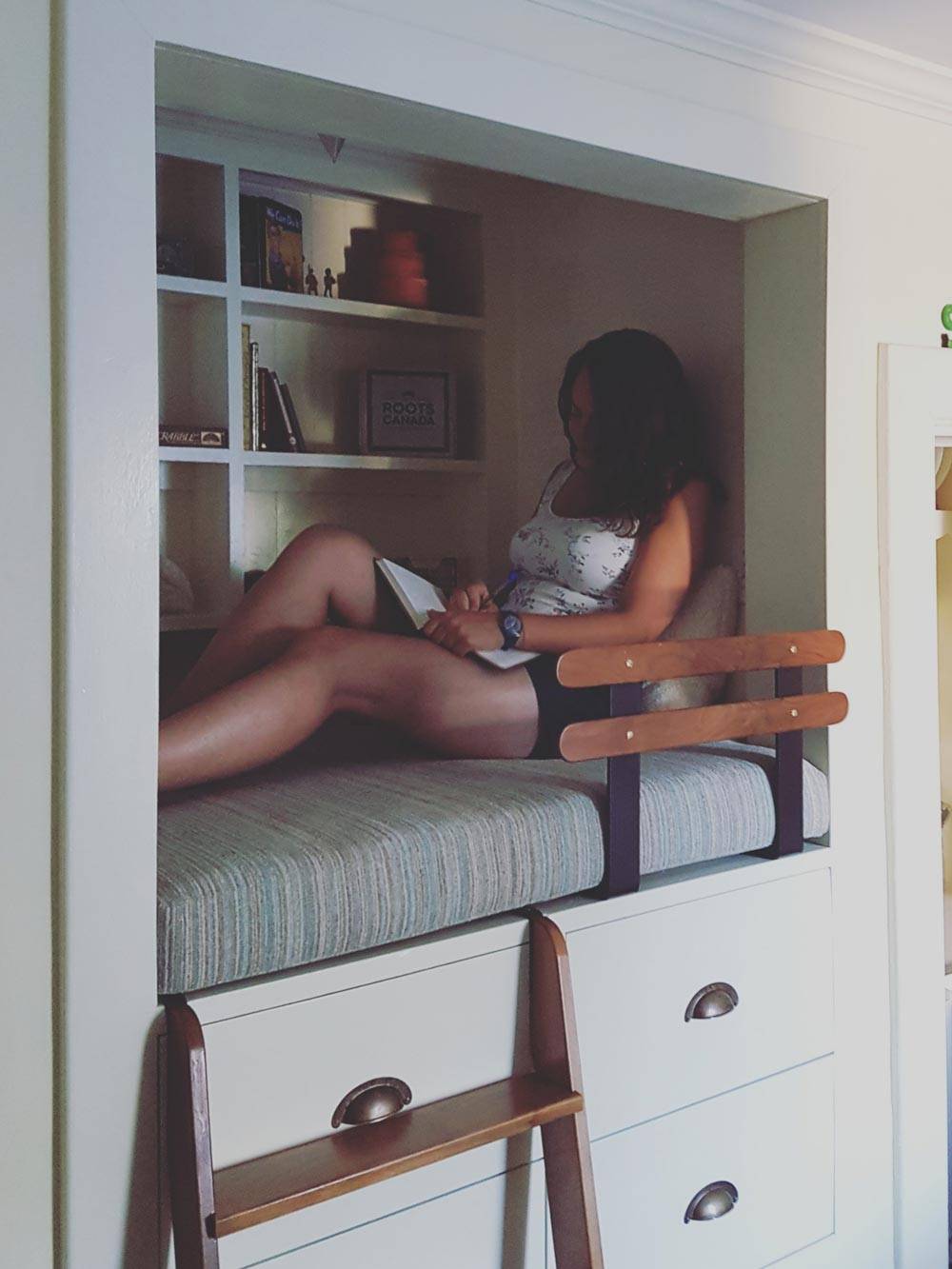 The theme of the current collection is "Postcards", what does that mean to you ?
Postcards were a habit from my childhood. My grandparents used to send them to me and I used to send them back to them. As soon as I started travelling on my own, I kept up the habit of writing to my family and friends. I love exploring little shops and choosing original cards. I also love settling down in nice places and taking the time to write. It's always a pleasure to receive a surprise card from time to time !
" I LOVE EXPLORING LITTLE SHOPS AND CHOOSING ORIGINAL CARDS. I ALSO LIKE TO SIT DOWN IN NICE PLACES AND TAKE THE TIME TO WRITE. IT'S ALWAYS A PLEASURE TO RECEIVE A SURPRISE CARD FROM TIME TO TIME ! "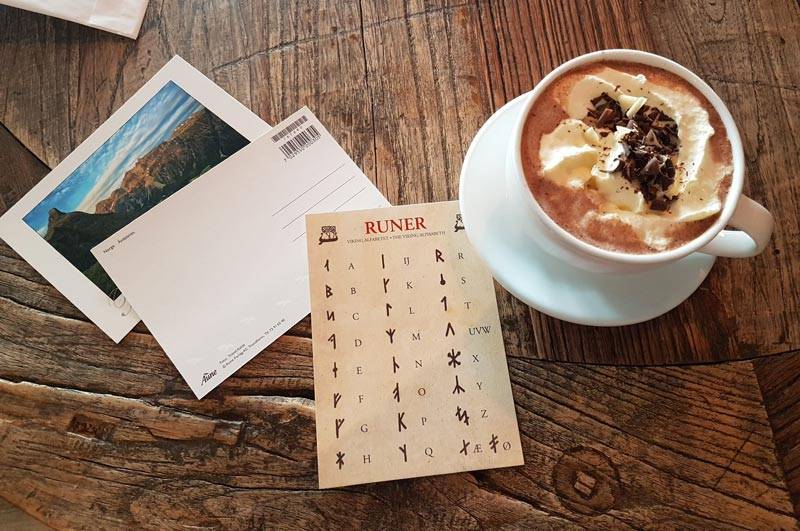 Why did you use postcards to communicate with your community ?
When I announced that I was putting my business on hold for 8 months, regulars and subscribers asked to follow my adventures. I knew I'd want to share, but I didn't want to commit to fixed posts or newsletters. Postcards were the obvious choice: they would be a pleasure for me and for the recipients.
Can you explain your "Operation Postcard" project in more detail ? What did you get out of it ?
Each month, for each destination, I opened 10 postcard reservations. And as the trip progressed, I chose cards, places and things to tell. It was great to think about each person, the route the card would take and the surprise, because we had no idea of the postal delays. It created a new kind of bond with people I knew in real life, online or not at all !
" I remain convinced that paper and digital complement each other. "
In your opinion, has digital technology had an impact on writing? Or on the way we write?
We read a lot of information without even realising that we're reading, and we write and communicate a lot and quickly without realising it either. I remain convinced that paper and digital are complementary. Reading and writing are activities that you learn, but you only get into the habit by mimicry or by taste. So if we want to encourage them, we need spaces where they are enjoyable and not necessarily formal.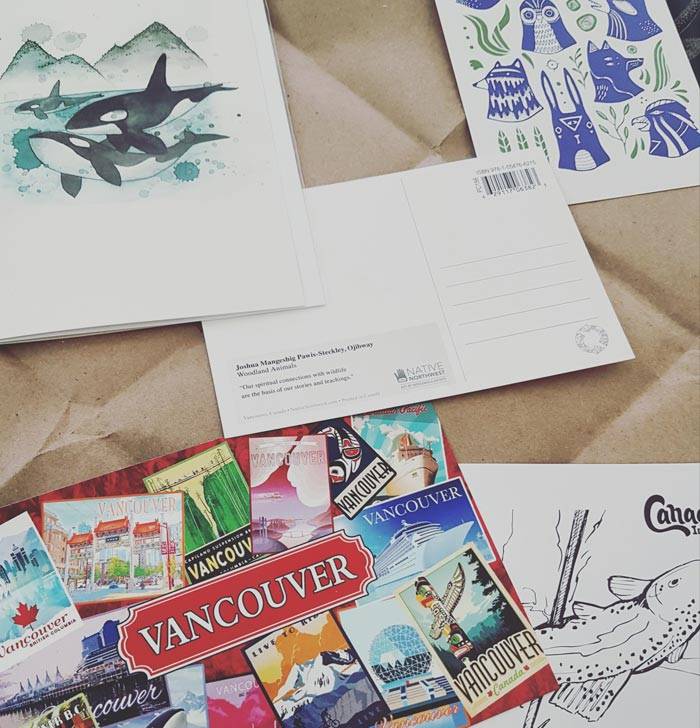 Do you have 2 or 3 books on the theme of escapism to recommend for this summer?
- The Tattooed Whale" by Witi Ihimaera, a superb New Zealand legend.
- Listening to orcas" by Alexandra Morton, a Canadian biologist's introduction to orcas.
- One hundred years" by Herbjorg Wassmo, generations of women in the heart of Norway.