Suspended moments at Taj Ninny's
6 MN
A day out of time
with Taj Ninny
It was through Christophe Luez, the artistic director with whom we have been working regularly for the past ten years, that we were able to meet Vincent Sanjivy, or rather Taj Ninny. He is a visual and digital artist who is interested in the use of technology for poetic and musical purposes. We met him in his apartment/workshop in Bordeaux, to discuss his universe, which is as captivating as it is relevant, for the theme of our latest collection: "Erreur 404". A moment of suspension and warmth, in a mess of plants, cathode ray televisions and hectic machines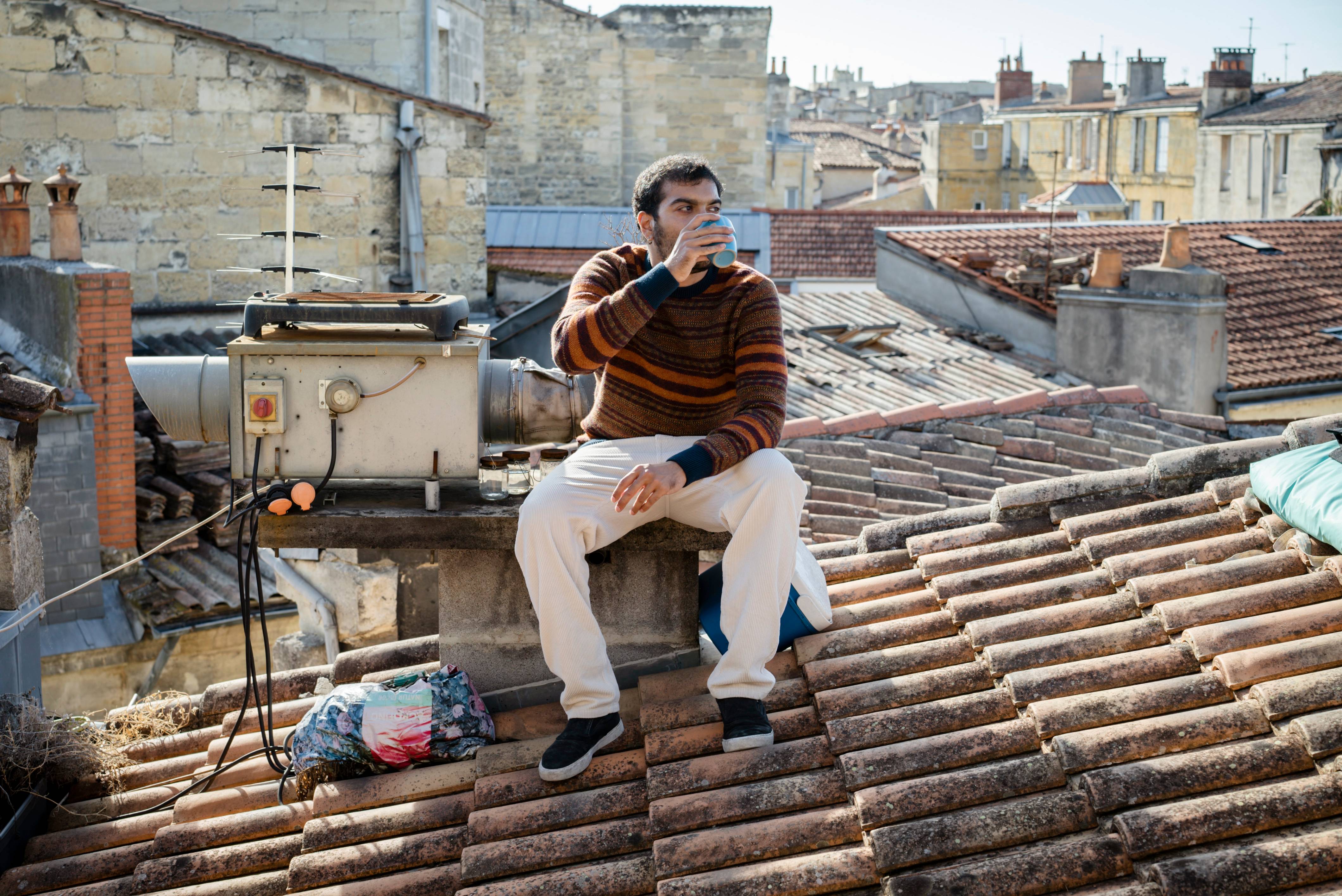 Can you introduce yourself in a few words? 
My name is Vincent Sanjivy. I alternate between digital creations, misappropriation of objects and making machines, under the name of Taj Ninny. For the anecdote, during my first exhibition, all the artists had to find anagrams. So I spent an hour arranging the letters on an old scrabble board and came up with Taj Ninny Sivvec. Taj means "crown" in Indian, I'm actually half Indian through my mother, and Ninny means "idiot", affectionately in English. I stuck with Taj Ninny because it suited me and also because everyone started calling me that.
Can you tell us about your background?
I studied in an engineering school in Paris. When I entered this school I was very scientific, I was not political and I wanted to earn money. What saved me was skateboarding. I met and worked with people who are now typographers and graphic designers. These people had a different culture than the one I could have had with my science classmates. The skateboard videos allowed me to discover rock and punk music, but also experimental cinema.  
While I was studying engineering, I became more and more interested in art and started to feel different from the other students. When I arrived in my third year of study, I started to wonder. I was passionate about the subjects I was learning, they were subjects I was good at, but it was not the same as the other students.  I was good at, but it
was the way in which I applied that knowledge that I was less and less comfortable with. During this period of doubt, I chose to take a digital arts course. The first course was like a revelation for me. The teacher was great and showed us theatre, concert stage design, interactive installations, performances. Through this course I had found the area where I could apply the things I was good at in a creative way that made sense to me. 
Following my engineering degree in 2014, I had this famous artistic legitimacy complex. I then started in museography. I was doing the technical and technological part for artists who were designing exhibitions.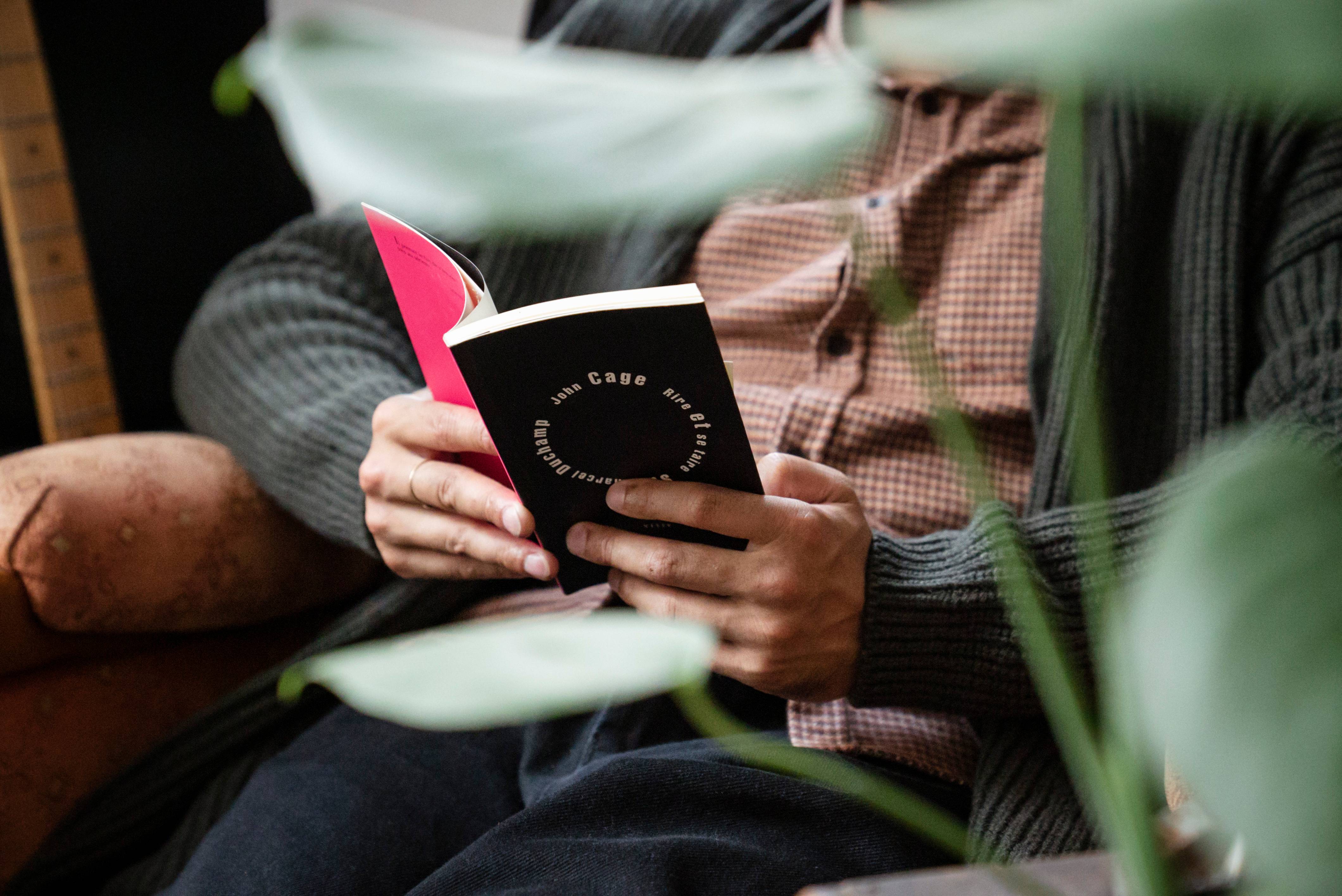 How did you get out of this feeling of illegitimacy? How did you come to propose things? To exhibit?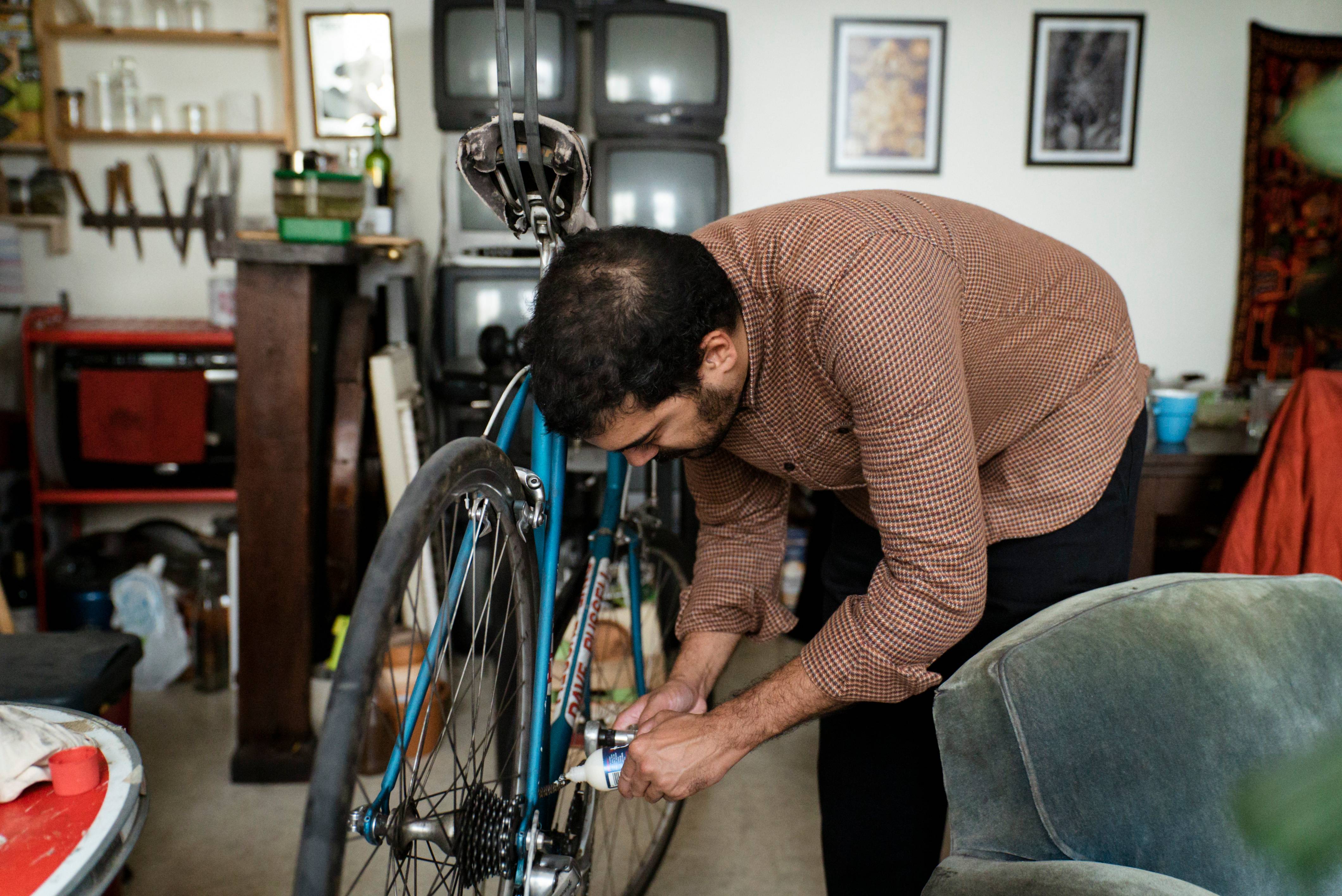 I moved to Bordeaux, at the time I was passionate about jazz. I saved up my salary from my internship to buy a great Selmer saxophone and decided to take a one-year jazz saxophone course at CIAM. 
On the other hand, I wanted to do something more down-to-earth, so I became a bicycle courier, which I loved, and which was quite an exciting job. I found this team atmosphere again, like skateboarding. Deep down, I felt the need to take a break, to disconnect. Every evening during this period, I had forbidden myself to go on the computer. I wanted to waste as little time as possible, to take an interest in literature, cinema, areas where I felt I had gaps. 
After two years, I felt that I missed electronics and computers. I started to relearn electronics, on my own with the internet, because it was a subject I was not very good at, nor interested in at school. This was followed by a creative soldering iron impulse, I created lots of little machines in my corner. Some friends saw what I was doing and one day a friend came to me and asked me to exhibit. It was my first exhibition: "Cultural Hazard", with an orchestra of recycled machines. After that, I had several exhibitions, which helped me to unblock this frustration and this feeling of illegitimacy.
We note in your work a process of recovery and diversion, do you have a common thread in your creations?
I have a very "home-made" approach. In Bordeaux I walk around a lot, I do my shopping with what I can find sometimes on the pavements. What has been thrown away and has no value for anyone. When I was a bike messenger, I was on the street all day with my huge backpack, I could put a lot of things in it. Between two errands, I would drop off what I had found on the way to my flat. These found objects give me ideas, I'm going to add motors to them, to make them sound mechanically. I'm trying to think of them as an electromechanical sculpture. My aim is also to make them graphic. I also find it hard to get rid of things, if for example my fork has broken, it will tear my heart out to throw it away. Instead, I'm going to make a creation with it, so that it can continue its life in another way. Always in this idea of diversion, reuse / recycling. 
Today I could buy a Moog or an electro-harmonix pedal, but by creating it yourself you get different sounds. I think you bring more to the table by creating rather than using an existing tool. Even though it may sound a bit "dirty" at times, it can be just as good or even better. At least this tool will be fully adapted to its use. Concerning the common thread of my projects, I would say that it is the absurd, the error. I think we would be much happier in society if people were not afraid of being ridiculous or making mistakes. Mistakes are an integral part of my creative process. It rarely happens that an idea ends up the way I originally imagined it. Whether it's electronic or computer-based, I let myself be guided by it, I don't try to avoid it. I find that I create well by following this erratic path.
Can you tell us more about these machines? 
It is a generator of rejection letters for cultural grants. Created for my first exhibition: "Cultural Hazard". It is an algorithm that I programmed, it allows to generate 10 million possible letters of refusal of grants. These are grammatical assemblies chosen randomly by a machine integrated into a receipt printer. Then there is, for example, "Taj Ninny's noise dog". It's a hot dog, a dog toy from the Foir'fouille. Inside, I put a loudspeaker and a whole electronic system that works with a battery. The photos of the resistors are placed inside the sausage, which reacts loudly to light.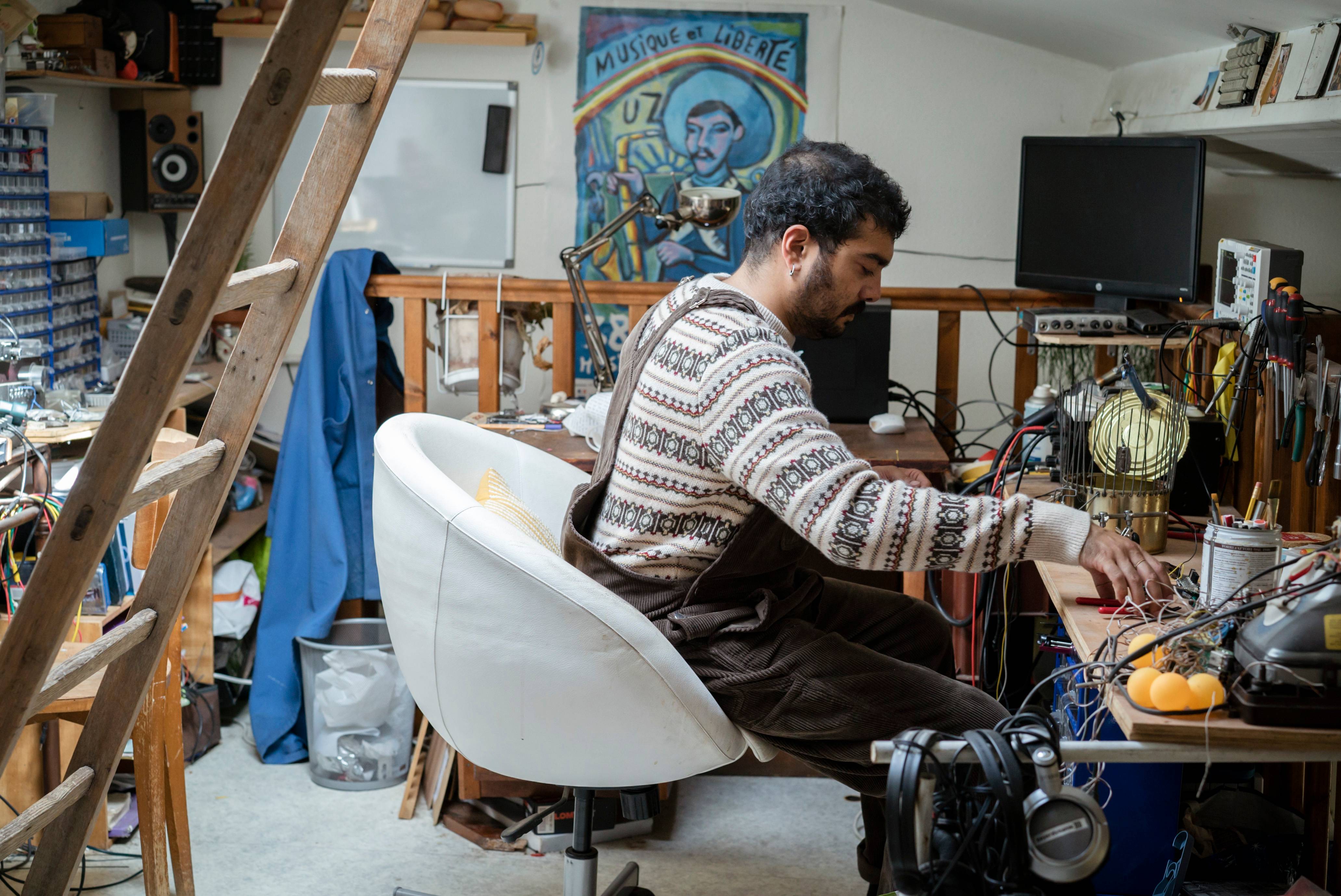 Can you tell us about the place we are in?
This is my home, this is where I live, this is where I work. I have my office in the mezzanine, that's where I do computer projects with my computer. That's also where my craft room is. I have all my electronic components in the drawers, it's my own little electronics shop, I try to be self-sufficient. I also store leftovers from previous exhibitions at home. They are gradually taking over the space. I like working here, being surrounded by all these machines and little plants.
The theme of the collection is Erreur 404, what does that mean to you?
I imagine a gigantic 404 Error, an international bug where no electronic device would work anymore. How it would upset us. We would probably be very unhappy at first and then we would learn to live differently. I think it could be interesting to disconnect from these machines, which unfortunately I think are not as much at our service as they should be, since they are controlled by people who have interests other than social ones. Maybe a little 404 error cure, a month to see, could be worth the experience.
Photographs : Jeanne Chauveau